Smart Zero Pricing Option
For seasonal or
migrant workers
You can now have a Smart Cheque Account without paying a fixed monthly account fee. If you have an irregular income you can qualify to pay Zero monthly account fee.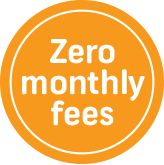 What you get
---
Pay no monthly account fees
---
If you have a Smart Cheque Account you can select the Smart Zero Monthly Fee Pricing Option and pay no monthly account fee. It is designed for customers in the mainstream market, with an irregular income.
This pricing option has all the functions of a transmission account, with a fee structure tailor-made for this target market. This pricing option is best suited to seasonal or migrant workers.
Getting it made easy
---
Smart Zero Pricing Option
Qualifying criteria
Earn up to M1 200 per month
First National Bank of Lesotho Limited - A Subsidiary of FirstRand EMA Holdings Limited and a
member of the FirstRand group of Companies. An authorised Financial Services Provider. Reg No: 2008/729.